You know how I said that I was going to start focusing on the positives in hopes of yanking myself out of this funk?  Well, I decided to start that off by sharing with you a little project that's been on my agenda for nearly five years now.  Once I finally got the motivation to start doing something with our house, I knew that I had to finally get this project marked off of my someday to-do list.  My mother-in-law and I finally actually did it a few weeks ago when she was visiting.
It all started with what would likely be a nightmare for many women.  Me.  Scissors.  Wedding Dress.
Oh, yes, my friends, I really did it.  After years of talking about it, I cut up my wedding dress.  I'm downright gleeful over the end result and am so excited to show it off!
First, one last look at my dress before taking the scissors to it.  This is about the time when my mother-in-law asked me if I was SURE I wanted to do this.  I think she was terrified that I was going to cut into it and immediately wish I hadn't.
A few snips in, I realized two things: 1) No wonder wedding dresses are so HOT…look at all those layers of fabric!  and B) I really should have pinned the dress before I started cutting.
So, I threw some pins into the fabric and resumed my cutting.
Then, I ran it through my sewing machine so that the fabric wouldn't all fray.
My mother-in-law came up with the idea of using a piece of acid free board to form the dress around, and she suggested that we cut it on the sides to give it a bit of an hourglass shape.  So smart!  Once the board was ready, we used Tacky Glue to glue the top half of the dress to the board (we only did the top of the dress, as we wanted the bottom portion to hang like it naturally would, rather than being formed around the board).  Then, we threw some clothes pins all around the edges to hold it in place while the glue dried (more geniusness courtesy of mother-in-law!).
Once the glue was dried, mother-in-law hand stitched the bottom and prettyfied the bow for me.  And just a few hours after we started the project, it was ready for me to tuck inside its shadow box.
 Seriously.  Gleeful!
And do you want to know what makes this project even more glee worthy?  The only expense that I had was the shadow box.  The one I got is regularly $50, but I picked it up when Michaels had a sale going on.  The sale price, combined with a coupon for an additional 25% off my frame purchase found me bringing it home for just $15!
---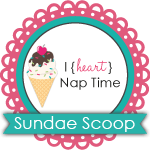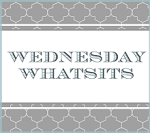 Pin It
29 Responses to "{Project: Wheelerize} Cut. Glue. Frame. LOVE!"